Private Piano Lessons
Individual Piano Lessons


Are you passed the beginner stage and interested in making further progress as a pianist?
Would you like to play piano more fluently and expressively?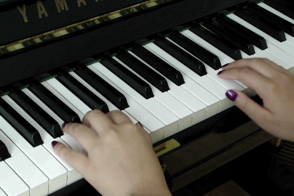 Individual piano lessons are for those who are committed and wish to work intensively. Our private piano lessons aim to develop your piano playing so you will become competent as an interpreter and convincing as a performing artist. We pinpoint your weaknesses and help you to address any issues that are holding you back. We work on widening your repertoire and learning new works while encouraging older works to be memorised and coloured with poetic expressiveness that is appropriate to the composer, period and context. If you are not quite ready to shine, we will develop the basics such as posture, musical knowledge, theory, sight-reading skills, rhythmic awareness, form and analysis, and other skills related to being a fully-formed pianist. We will also develop technical issues such as fingering, dexterity, strength and relaxation. We will choose a repertoire that is within your reach, that offers you the chance to play fluently and benefit from the enjoyment this brings.
About Graded Piano Exams
We will prepare you for piano examinations, but only if doing so is appropriate to your musical development. Preparing for examinations alone is not a complete or healthy way to become a musician. There is so much more to cover than what the examinations are concerned with. Further development in musical understanding, repertoire, history, style, technique and performance is required between each examination than is generally appreciated. Passing an exam does not mean you are ready to sit the next one, unless you build your knowledge, skill and stamina to such a point that you are enabled to prepare for the next exam in one term. If your preparation takes a year, you are wasting your time – valuable time that you should be using to grow as a musician.
Musical development is more important than preparing for an exam. When you are ready, devoting one term to preparing for an exam is a good way to prove that you have reached certain targets, that you claim to be a fully-formed musician at the level of the examination and you wish a professional examiner to verify this. The examiner can only mark and comment on your performance on the day – an examiner has no idea that you prepared for the exam in a few weeks with ease or that your preparation was a mammoth struggle of two years! The examiner usually has no idea about the quality and breadth of your musical education beyond meeting the requirements of one exam. Please consider the relevance of this and how it relates to your overall musical development, personally. While examinations are good milestones to achieve when used appropriately, the best assessment of musical development is self-assessment tempered with the assessment of a good teacher who monitors your continuing development over time.
Individual/Private Piano Classes are available to committed students from age 4 to 104!
Students from age 4 to about the teenage years should be accompanied by an adult. The parents of young children are expected to be active observers in the lessons, who acquire knowledge about supporting and encouraging development between the lessons. Familial support is very helpful as an aid to making progress. Since the student meets the teacher once or twice each week, it is important that responsibility for practising lies with parents! This is the case until the student reaches certain stages of maturity and independence when old enough to take on responsibility for practising, even when 'not in the mood' or fighting against competing interests.
Would you, or your child, like to benefit from this?
Contact us using the application form on the tab at the edge of the page.
Location of Private Piano Lessons
Venue: Glasnevin Avenue, Dublin 11
(near Topaz, The Autobahn, The Helix, DCU)
We are on the main road, midway between Finglas and Whitehall.
By road, we are served by the M50 Junction 4 (Ballymun exit) and M50 Junction 5 (Finglas exit). Glasnevin Avenue is part of R103 on the map.
Local Public Transport servicing Private Piano Lessons
Playright Music Ltd is serviced by the following bus routes:
Number 9 — Charlestown to City Centre via Glasnevin Avenue
Number 17A — Blanchardstown Shopping Centre to Kilbarrick via Glasnevin Avenue
Number 11 — City Centre to Glasnevin Drive (walking distance)
Number 13 — City Centre to Ballymun Road (walking distance)
If you wish to develop as a musician and performer, contact us at the earliest and request a meeting or audition.
A year from now, you may wish you started today!

Individual Piano Lessons | Private Piano Lessons
Piano Lessons Dublin | 
Advanced Piano Lessons
Playright Music Ltd., Dublin | Tel: 01-842-2463
Director: Daniel Walsh M.A.