Product

Piano Lessons

Type

Music Education

Reviewed by

Sam Joyce


on

2014-01-14

Rating
Summary
After only a couple of lessons we heard music in our house. We were surprised how easily the tunes flowed. This is much different to the way piano lessons were when I was a child. Very impressed.
Beginners Piano Lessons
Beginners Piano Classes

Parents,
Are you interested in music lessons for your children?
Would you like your children to learn to play the piano?
Applications are invited for our new course: Introduction to the Piano.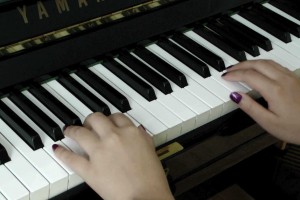 This course is for children who wish to start learning the piano. Our Beginners Piano Lessons are an ideal introduction for young children. Content covers knowledge of the piano, singing and playing tunes, basic technique, and practical knowledge of the elements of music: pulse, rhythm and pitch. Also covered: skill development in reading music notation fluently, training in how to learn and memorise, and how to practise — useful life-enhancing knowledge.
Age-Appropriate Presentation
We organise our small classes to have children of similar age. Our age-appropriate presentation helps develop a love and enthusiasm for music, compliments the primary and secondary schools' music programmes and leads towards the practical examination of the Junior Cert.
Beginners Piano Classes are available for children aged 6—8 years; 9—11 years and 12—14 years.
Our Beginners Piano Classes promote a team spirit where each student helps and encourages the others to achieve. This consolidates the course content for each student while developing self confidence and self awareness. The classes promote social development as well as musical development. The atmosphere is always pleasant, positive and focussed on music. It develops an interest in musical performance by setting reachable targets continuously, supported by positive encouragement from the experienced teacher. There are long-term opportunities too: Students who make good progress in our Beginners Piano Lessons may graduate to more intensive individual lessons with us in due course.
Would you like your child to benefit from this?
We have an application form especially for this course. If you apply with this form, we will invite you to a meeting before the classes begin.
Click here for the Application Form.
If you wish to read more, we have further information on other pages: Click here! 🙂
Location of Beginners Piano Lessons
Venue: Glasnevin Avenue, Dublin 11
(near Topaz, The Autobahn, The Helix, DCU)
We are on the main road, midway between Finglas and Whitehall.
By road, we are served by the M50 Junction 4 (Ballymun exit) and M50 Junction 5 (Finglas exit). Glasnevin Avenue is part of R103 on the map.
Playright Music Ltd is serviced by the following bus routes:
Number 9 — Charlestown to City Centre via Glasnevin Avenue

Number 

17A

 — Blanchardstown Shopping Centre to Kilbarrick via Glasnevin Avenue

Number 

11

 — City Centre to Glasnevin Drive (walking distance)

Number 13 — City Centre to Ballymun Road (walking distance)
Remember to contact us early – it helps the class to form.
It is a good idea to tell your friends, relatives, classmates about this too. They may like to join with your child and help their class to form with friends from the same area. This may help you with transport arrangements. Express your interest here.
A year from now, you may wish you started today!

Beginners Piano Lessons | Piano Lessons Dublin | Piano Classes Children
Introduction to the Piano: Classes for Children
Playright Music Ltd., Dublin | Tel: 842-2463
Director: Daniel Walsh M.A.